What better time than summer to see a local production or film screening of one of the best musicals ever made, West Side Story?
We'll help you get ready to ¡mambo!  Before you go, explore the stories behind the music and more with six of our favorite Bernstein Experience multimedia features, and then get tickets to see West Side Story near you.
"Somewhere" starts right here.
So where will you watch West Side Story this summer? Here are some of our top picks.
Plus, for those of you near New York City on June 25, Broadway legend Chita Rivera will share songs and stories from her starring roles in West Side Story, Bye Bye Birdie, and more! Performances are at two and seven o'clock at the 92nd Street Y.
Enjoy West Side Story on a big screen
If your local theater isn't presenting the musical soon, you may want to see West Side Story on the big screen on June 27, presented by Turner Classic movies and Fathom Events. Enter your zip code to find screenings near you. (On social media, look for hashtag #TCMbigscreen.)
Near North Carolina or Massachusetts in July? Watch the West Side Story film with a live orchestra!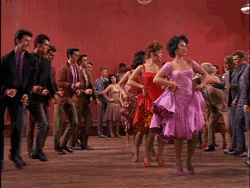 Post updated June 26, 2018
More Bernstein at 100
If you like musical theater, you might also like these Bernstein productions:
Find more Bernstein at 100 events near you.
What's your favorite Bernstein theater production? We want to hear from you! We're on Facebook, Twitter, and Instagram, all at @classicalorg.
Want to see YOUR Bernstein event on our calendar? Submit your event to the Leonard Bernstein Office for consideration. Email us for more information.